ThePornDude Includes Virtual Reality in his List of Top Porn Sites

ThePornDude Includes Virtual Reality in his List of Top Porn Sites
We all know that finding good porn on the web can be a tiresome, grueling experience for even the most advanced practitioners of Google Fu. Long has the weary adventurer sought to find the most perfectly-niched site for their personal fetish. I get it, trust me - upside-down lesbian rope bondage VR porn was a hard one to find (and say). That's why I wish I had known about ThePornDude sooner. Sure, I knew there were porn lists out there, but most of them don't touch VR porn - it's just too new of a market. It's in that space between being a cool idea and a mainstream product, I thought. Most of the big guys aren't going to take their time to mention it just yet. Turns out I was wrong, and gladly so.
You see, ThePornDude has spent countless hours surfing the naughty parts of the web, trying different sites, looking for new contenders, dodging penis enlargement ads to find the cream of the crop (or cock, rather) for you and I, constant fapper. You'll find only the top of the top on his site. It's a great way measure the pulse of porn on the web. If a site's ranking comes up or a new category emerges, you can be sure that something big is happening. That's why I was so surprised when I saw VR Porn Sites included in his list. I had apparently falsely believed that VR porn was still a nascent market (and I'm WRITING for a VR porn site). There's no way that it could make it onto the list so soon, surely. But seeing the sites, I was pleasantly surprised. It seems the VR porn market has gained enough traction that a heavyweight site like ThePornDude feels comfortable including it on his top list, going so far as to label the category "sex from the future." Spot on PornDude, spot on.
Looking at his picks for the top VR sites, I can say that I agree for the most part. We've spent countless hours ourselves curating and aggregating content from as many VR porn studios as we can find. I'd probably include all of those studios on my top ten list, and maybe put BaDoinkVR a couple spots higher; but then I'm a power user. I've spent more time in my VR headset than Jeff Bridges spent in Tron. The sites ThePornDude has chosen are perfect for the casual user who's looking to take that first dive into VR porn - they all have mainstream, vanilla pornstars that you'd be familiar with from 2D porn. It's a comfortable transition before you start looking for syrup-covered midget porn.
It seems that VR porn has been on an upward spiral these last few months, if its inclusion in ThePornDude's list is to be taken as a gauge of popularity. I think it's safe to say that the the market is only going to continue to grow, and we can sleep easy knowing that ThePornDude will be there watching, waiting, sifting through the muck to guide you toward porn's future. Go on, we'll be there waiting for you.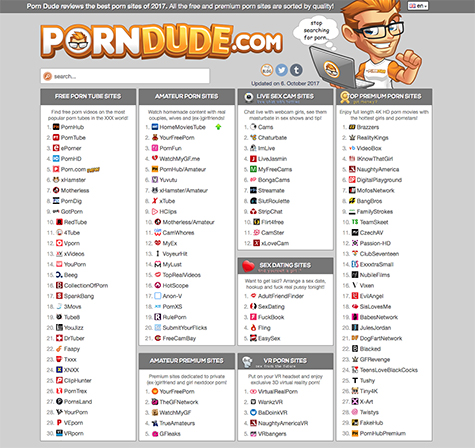 Added on: 2017-10-06 15:13:48