How to watch VR porn on Oculus
Oculus Rift VR Porn Tutorial: The Only Guide You'll Ever Need
You can enjoy VR Porn on your Oculus Rift in two ways: via streaming using our built-in VR web player or by downloading the file directly.
STREAMING VR PORN VIDEOS TO OCULUS RIFT
At this time, streaming to the Oculus from VRSUMO is available on Windows 10 only. To view our videos on a different operating system, see our download guide below.
To stream VR Porn to the Oculus from VRSUMO, you'll need to download and install the latest version of Firefox (sorry Chrome fans, but Google Chrome for desktop doesn't reliably support WebVR just yet).
Once you have Firefox downloaded, streaming is as simple as plugging in your Oculus, opening the Oculus app, and navigating to the video that you want to watch from Firefox (I recommend checking out some videos in our full video section). Press play on the video you want to watch, then click the little VR goggle button in the bottom right of the player to stream the video to your Oculus. That's it! Put on your headset and enjoy the action.
DOWNLOADING VIDEOS TO OCULUS RIFT
You can also download the video to play it on the Oculus. Click the Download Oculus Rift Video button to get the video file to your hard drive.
You will need a Virtual Reality Video player for your Oculus. We recommend you use Virtual Desktop available in the Steam store. It is not free, but it gives you the best experience.
Run the Virtual Desktop application and go to the Videos tab and click "Open..."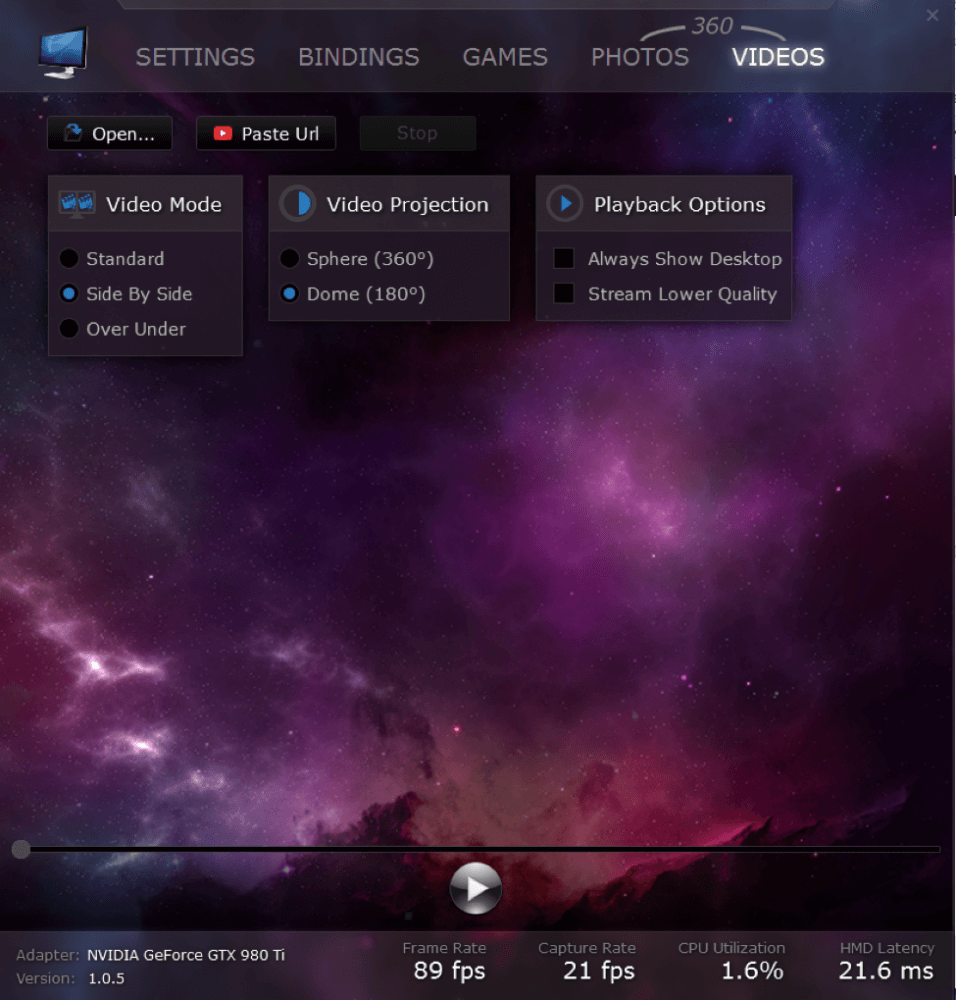 Browse to the video file you downloaded, open it, and hit play.
ABOUT OCULUS RIFT
The Oculus Rift is a virtual reality headset developed and manufactured by Oculus VR, released on March 28, 2016. Oculus proposed a Kickstarter campaign in 2012 to fund the Rift's development and has gone through two separate iterations, the Development Kit 1 or DK1 and the DK2, before the final consumer version, the Oculus Rift. It was subsequently purchased by in March of 2014 for $2 billion. You can read more about the Oculus Rift in our Review.
Added on: 2016-05-28 00:34:24